Branding: Sparkcon Festival
OVERVIEW:
Re-branding for a Festival Located in North Carolina: Sparkcon. Posters, Program and webpage mockups created to enhance this festival and
COURSE: Communication design 2 , year 3
TYPE: Advertisement, Branding, Typography
TOOLS: Adobe InDesign, Adobe Illustrator, Adobe Photoshop
DURATION: October 2017-December 2017 (2 months).
OBJECTIVE:
The intent for this assignment is to chose a festival located in North American and re-brand the original by creating new advertisements, program and webpage mockups.
RESEARCH / OBSERVATIONS:
After searching hundreds of festivals in the North American, SPARKcon immediately grasped my attention. The cultural Festival which I will rebrand is called SPARKcon. This festival has been running for the past twelve years in North Carolina, United States. SPARKcon was founded in 2006 by Beth and Aly Khalifa and Designbox to showcase, celebrate, and influence the creative momentum of the Triangle region of North Carolina. SPARKcon could not exist today without their innovative thinking, commitment to our community, and work ethic. SPARKcon is essentially a showcase for all different forms of art. It gathers artists from around the region and allows them to show off their unique talent, whether it may be film, theatre, music etc. The branding for this festival is not terrible, but definitely has room for improvement which is why I took on this challenge to re-brand their event while still obtaining their original identity.
 
REFLECTION:
I am very satisfied with the overall look and feel of the event I re-branded. I believe these new design choices are best suitable for the event because when one envisions art they automatically associate that with colour, vibrance, textures etc. Which is why I want to be able to promote this event by appearing unique, artistically inclined and full of excitement.
Potential Posters
These posters took on a different perspective for the event SPARKcon however did not make it to the final deliverable.
Final Deliverable
This final 20x30" poster encompasses a variety of colours which represent the 12 different events at the festival. It has a sense of vibrance and energy while still remaining organized and legible. This poster speaks volumes to the audience and obtains all significant information in a properly placed typographic manner.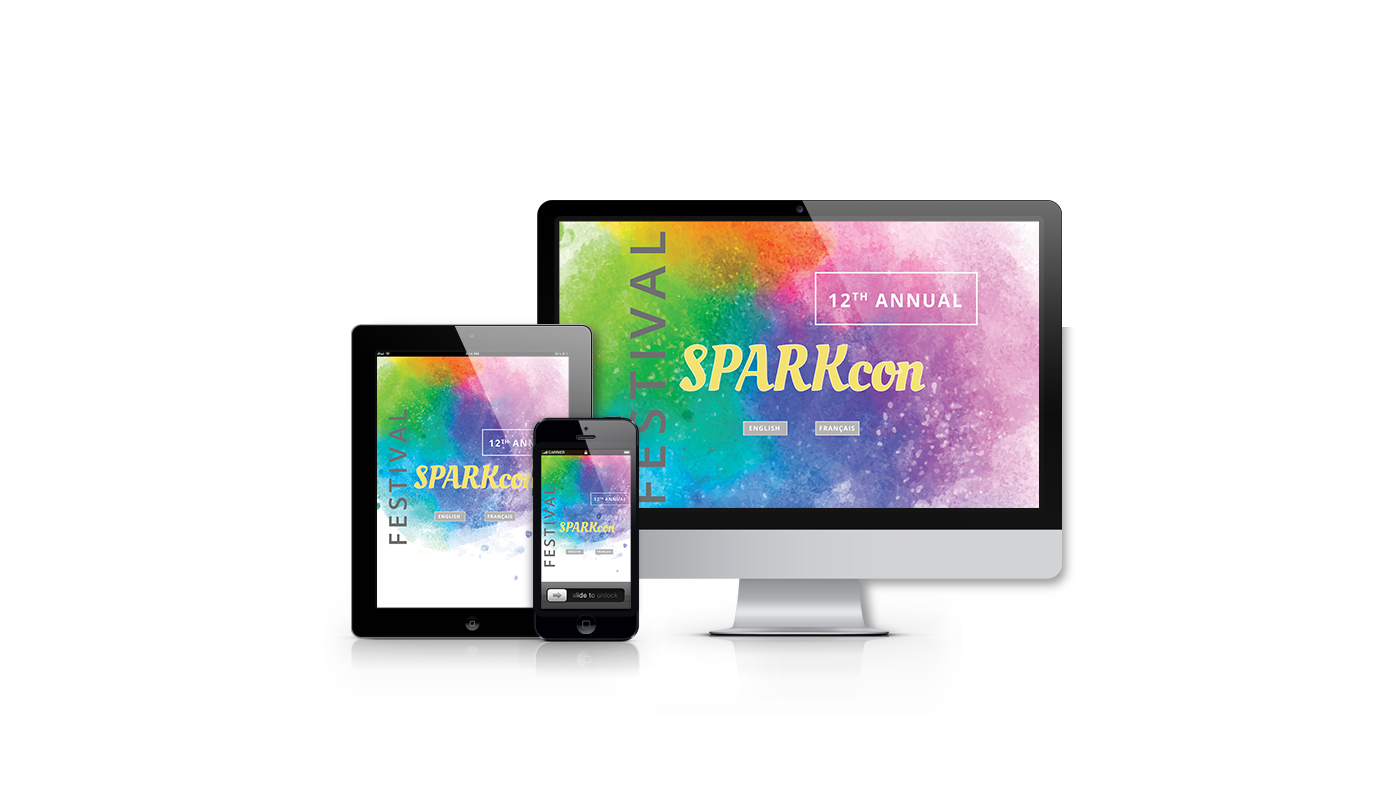 Screen Mockups
These are mockups of the very first screen you will see when accessing the SPARKcon Festival online. The colours and typography throughout these screens remain consistant similar to the poster, and continue to attain an organized and energetic appeal.