Product Design: MIBI
OVERVIEW:
A smart pen designed for elementary students, paired with the MIBIapp, where both teachers and students are able to track their progress and practice writing cursive.
COURSE: Advanced Models and Speculative Interfaces Year 3
TYPE: Product design, UI/UX design, branding,
TOOLS: Adobe InDesign, Adobe Illustrator, Adobe Photoshop, Invision, Final Cut Pro
DURATION: October 2017-December 2017
OBJECTIVE:
As a team we must figure out any smart-device by given the topic "education." Thus leading us to our smart-pen "MIBI." Mibi is a 3D pen that teaches children how to write in cursive, as well as a corresponding app which can be used in classrooms as practice/tests.
RESEARCH / OBSERVATIONS:
With many smart devices already in existent our problem was creating something that has not been done, or enhancing it is new and improved and will do well in the market. Several ideas which we did not go with are:
SOLUTION:
After the first round of critique and comments on the ideas pitched for a potential smart device, the group decided to go forth with an educational smart pen. We decided to pursue the development of the smart pen because it is small, improves sensory skills, fits in a pocket, sleek, modern, efficient and possibly inexpensive. With the selection to work towards the design and development of the smart pen, we also decided to combine the smart pen with our initial "what we want to learn" point of learning calligraphy idea. Creating a smart pen that could teach children how to write cursive writing, one that is a form of penmanship that is not taught as often in schools anymore. This resulted and directed our deeper research on smart pen devices and determining the target audience: children ages around 6-10 years old. We aimed our research toward how children learned how to write, what age do children start to write and their learning development of reading and writing.

REFLECTION:
This assignment was extremely challenging yet exciting as it was a great opportunity for collaboration and team work. My team and I were constantly brainstorming great ideas, and working together to create something magnificent. Mibi is a fun and creative tool which will excite children to practice and learn cursive through the advancements of technology.
Brand Comparison
Market analysis - A look into other brands for children: Use of colour, typography etc.
Landing Page: Mibi
Landing page for the smart pen: Mibi.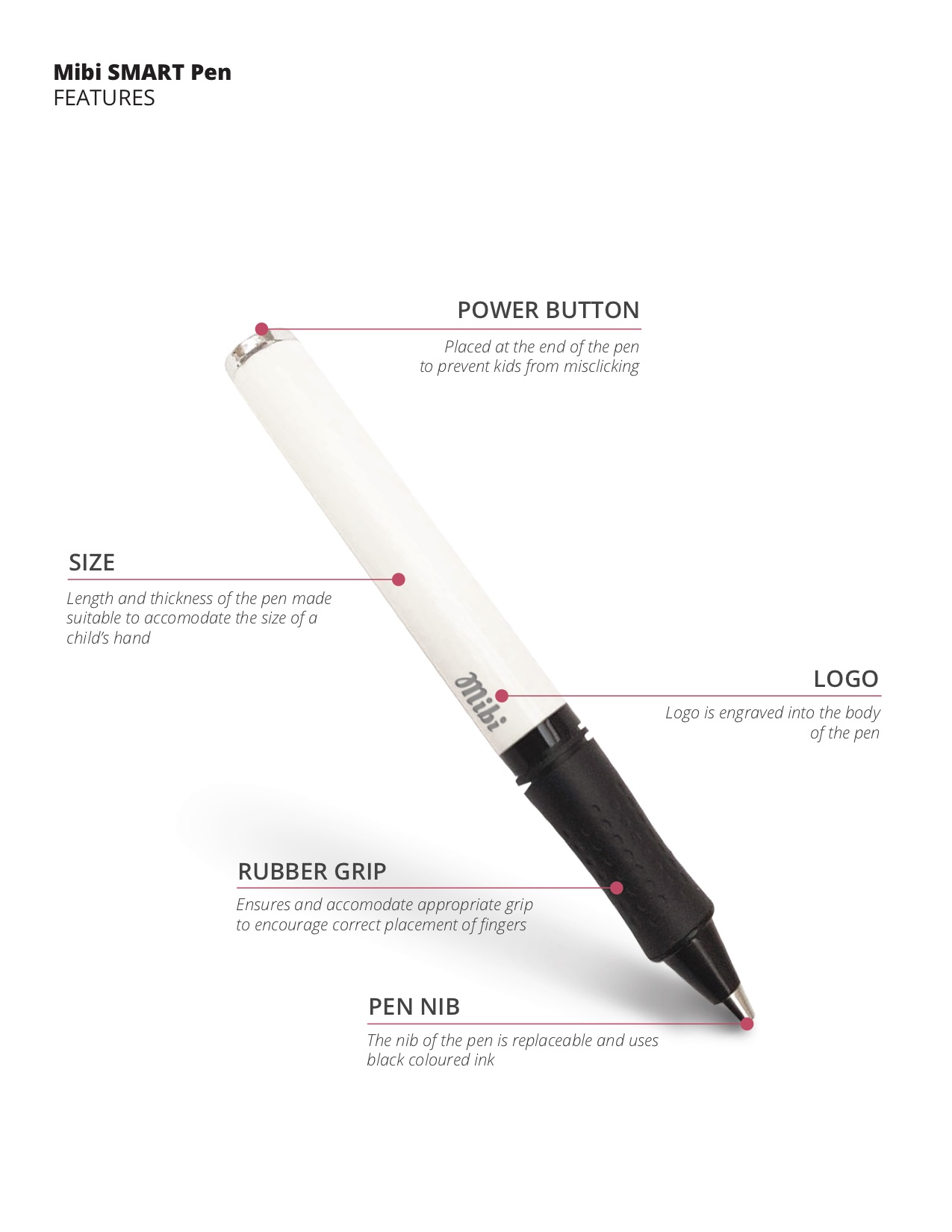 MIBI: Smart Device
Functions of smart-pen: Mibi.